10min from the historic center of BEAUNE, on a plot of 2590m², landscaped, trees and walled. This property benefits from a calm and spacious environment. Bucolic setting with its lake. The living room, the stay and the kitchen are exposed SOUTH and give directly on a large wooden terrace. The ground floor is completed with plenty of storage, an entrance hall, a large utility room / pantry, a cellar and a WC. Upstairs three bedrooms, a mezzanine office, a bathroom and a separate toilet. Underfloor heating, low consumption. Independent garage. No work needed.
Diagnostic de performance énergétique
logement extrêmement performant
C
consommation
(énergie primaire)
émissions
logement extrêmement peu performant
* Dont émissions de gaz à effet de serre
peu d'émissions de CO₂
émissions de CO₂ très importantes
Estimation des coûts annuels d'énergie du logement
Les coûts sont estimés en fonction des caractéristiques de votre logement et pour une utilisation standard sur 5 usages (chauffage, eau chaude sanitaire, climatisation, éclairage, auxiliaires) voir p.3 pour voir les détails par poste.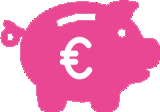 entre 1313 € et 1777 € par an
Prix moyens des énergies indexés au 1er janvier 2021 (abonnements compris)